Yeh HaH! Boys and Girls, Don the Boots and Stetsons and it's time to mosey on down to the Ranch. Foot stomping, Line dancing, Bangers and Beans and its Cowboy Time. Ride Bertie the Bull, Chance your luck on the Casino and Dance the Night away!
ACES HIGH! John and Paul are the two larger than life personalities who form this versatile duo. Not one but two vocalists performing the best of old and new Country. From Country Roads to High Noon, Hank Williams to Garth Brooks, ACES HIGH will have your feet tapping from the first note to the last!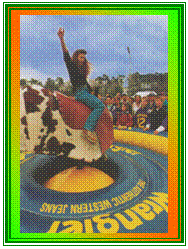 Games to Play! All the fun of the Rodeo with BERTIE THE BULL . Wave your Stetson with one hand as you cling on tightly with the manic mechanical bull. Are you a marksman, then show what you're made of with a SHOOTING GALLERY! For the Gamblers amongst you then enjoy the STARFIRE CASINO EVENING run by fully costumed croupiers. This full size Casino can be tailored to suit your evening, with Blackjack tables, Roulette, Crown & Anchor and Chuck-a-lug. Play for Real or Fun!!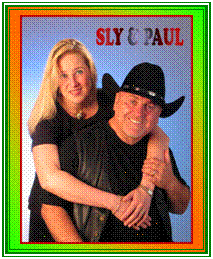 SLY & PAUL are pure Country, from their Boots down to the Country Mobile Home. Paul as worked through out the world on the C&W circuit, taking in all points from the UK and Europe as far as Nashville Tennesse! For the die hard fans they have an extensive repertoire based on traditional tracks such as Tammy Wynette, Billy Jo Spears through to contemporary sounds from the Country charts of today!
Round off your evening with the fun and frivolity of SIX PACK! Our very own Line Dancers will provicd the ulitimate in visual dancing. Fully costumed they will give an amazing display of traditional and modern Line dances before encouraging you to take to the floor and try it out for yourself. Enormous fun and the perfect extra touch of authenticity to make your Country and Western night go with a bang.