This superb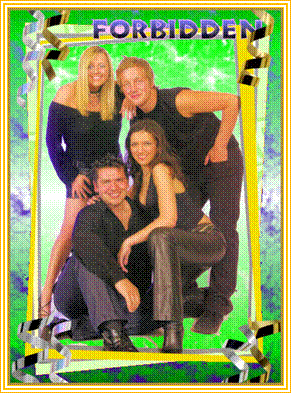 showband are fast becoming as popular over in Germany as they are in great demand all over the UK.
FORBIDDEN
are Dave, Stephen, Helen and Laura, four talented people all with individual voices and abilities who when together explode into this exciting new showband. Dave is the musical whiz kid behind this excellent outfit, having previously been in a number of top showbands including The Business. He is an outstanding bass guitarist, plays the bongos and live Trumpet and takes his share of lead vocals. Aided and abetted by Stephen on Live Keyboards and fronted by the excellent vocals of Laura and Helen
FORBIDDEN
have a show which is fast and furious from the first note to the last. With a whole range of across the board material plus dance routines & costume changes, making their show visually and musically a treat for sore eyes. For that extra sparkle and guaranteed quality there is only one
FORBIDDEN!