KASHMIR
are a superb mixture of experience, youth, talent and personality. A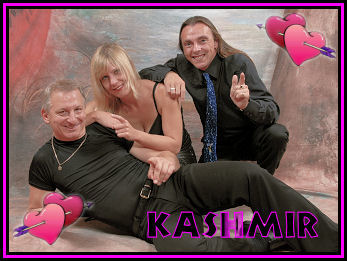 three piece outfit who will rival most showbands and guarantee everybody a superb night's entertainment.
KASHMIR
are Mark on Lead Guitar and who is the mainstay of this dynamic threesome. Musically he is aided and abetted on live keyboards by Natalya who combines performing with her role of Musical Director back in Bournemouth. Taking Lead vocals is the charismatic Tim whose awesome vocals cover all tastes, ranging from Bon Jovi, Robbie Williams and Status Quo!!
KASHMIR
have worked extensively in the UK and Europe over the past few years. Originally touring Germany as a duo they quickly became firm favourites on this circuit. Eighteen months ago they introduced Tim to add a broader variety to their extensive repertoire. And are as much in demand as before after being seen on Channel 5 and TVS in the UK. They have recently been the headline act throughout the continent on the 'Tour de France' playing to large audiences throughout Europe and performing live on Dutch radio. Their show is versatile and varied, with the first set taking you on a musical trip through time; the second set will ensure that the party goes with a swing, with 45 minutes of the most popular party tracks around, all performed with that special
KASHMIR
sparkle to ensure that your night sparkles from start to finish!