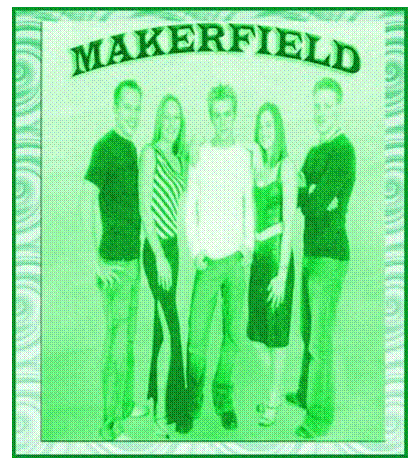 A young enthusiastic showband who come with a first class reputation for quality entertainment. Five extremely talented youngsters, all of whom are music graduates whose musical ability and close harmony work is second to none.
Fronted by the outstanding vocals of Hazel who brings a whole host of experience to this lively outfit. Hazel has a long and varied background to the wacky world of showbusiness as she is the daughter of Roger & Julie, formerly the top UK showband CHATOOSH. Prior to joining MAKERFIELD, Hazel was the mainstay of the excellent girl trio, DEEP, with whom she travelled the length and breadth of the UK and throughout Europe, including several successful tours of BFG.
MAKERFIELD have two full sets of covers ranging from the crazy 70's through to modern chart & dance tracks. Add to this, choreographed dances, costumes, state of the art PA plus a full lighting rig and you have a show which is pure dynamite from the first note to the last!