TOTAL SEDUCTION are one of our most popular acts. A fantastic all girl Showband who are as talented as they are lovely. Breaking the mould of 'Girlie' bands who are blatantly just pure PR, miming to backing tapes, TOTAL SEDUCTION have genuine vocal and dancing ability, which is proved over and over again in their classy, versatile show.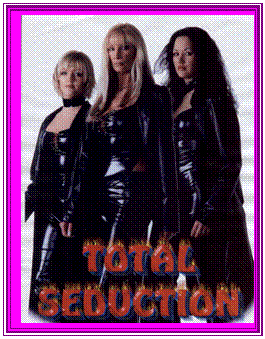 The main lady of this gorgeous outfit is the lovely Pat. As well as having a superb singing voice, she has a wealth of show-biz experience behind her, having formerly been the front lady with several well established bands, and toured the world from Japan to Arabia, various cities across Europe and a huge selection of venues in the UK, from the Corporate and military market through to the hard graft of the northern club scene. Backed by the superb vocals of Debbie and Paula, TOTAL SEDUCTION have developed an outstanding, all round show, which will appeal to everyone.
TOTAL SEDUCTION will give all audiences, large or small, a fast, slick entertaining show. Their first 45-minute set is cabaret at it's very best. With costume changes, and material varying from Meatloaf through to Madonna, covers from Alison Moyet to Alanis Morisette, all performed by the girls sharing lead vocals and choreographed dance routines and well produced giving a show which is as watchable as it is danceable. Follow this with a complete change of pace as their second set is a fast moving dance spot, guaranteed to pack the floor with music from Shania Twain, Madonna and many, many more. Fully self contained with an excellent light show, state of the art PA TOTAL SEDUCTION can be booked alone or for a full 5 hours of superb entertainment, as part of a cabaret package with a Top of the Line DJ/Compere.